Digital company assistant
Time saving client company admin
Perfect for accountants & advisors. Get a time saving, comprehensive and professional client admin service that will guarantee client satisfaction. Remain in full control of your clients whilst we do the work.
Company formation
Confirmation statements
Company filling edits
Dormant returns
Registered address
Dissolution service
Bank account + cashback
All clients in one place
Per client, Per month payment
A monthly recurring payment that is taken on the same day every month.
Learn more
Limited company formation
A limited company formation submitted online. This includes the £12 Companies House filing fee.
Certificate of Incorporation:
The certificate provides confirmation that your company has been incorporated under the Companies Act 2006.
Memorandum and Articles of Association:
The Memorandum of Association is a written legal agreement signed by all initial shareholders of a company, agreeing to form the company. Articles of Association are the written rules which define how the company will be run. These rules are agreed on and signed by the company director, shareholders and secretary.
Share certificates:
If a company is limited by shares, a Shareholder Certificate is sent out at the time of incorporation or just after incorporation. The certificate includes information such as the company's registered address, plus the names and addresses of the shareholders.
Client company admin
Company admin is time consuming and it's easy to make mistakes. Our experts will carry out all necessary admin for your clients company to save you time and money.
Confirmation Statement:
A confirmation statement is a snapshot of all the information about the company directors to make sure that Companies House's records are up to date. It's a legal requirement for limited companies to file a confirmation statement at least once every 12 months.
Dissolution service:
If your client decides to close their limited company, you'll have to let Companies House know. There are several different ways of doing this depending on the circumstances of why you're closing your limited company.Our experts will take care and take the necessary course of action with Companies House, should you need it.
Dormant returns:
If your client's company has no 'significant' transactions in the financial year, it's classed as dormant. In this case, we'll file a Company Tax Return to show HMRC that your company is dormant so you don't have to.
Company filling edits:
At some point in your client's business's lifetime, it's likely that changes will need to be made, be it changing a directors details, removing/adding a shareholder, a change of address or even changing the company name. Our experts will promptly do this for you.
Client registered address
Use our office address as your client's registered office and service address. We're Companies House approved, HMRC regulated. Our 3 in 1 service that protects your clients privacy, all other directors privacy too.
Registered office address:
On the public register, use our address as the business's registered office address
Service address:
On the public register, use our address as all the directors service address
Mail forwarding:
Quick and efficient mail forwarding and junk mail filtering. No additional handling or postage fees.
Digital scan and send:
We'll digitally scan all your mail, then email you a copy, making sure you get it ASAP.
Client must haves
Business Bank Account:
It's a legal requirement to have a business bank account as a limited company. We've handpicked a range of different types of business bank accounts to suit all types of business. You can even get £50 cashback when you open a Barclays business bank account!
Account and portfolio management
Priority phone and email support:
Priority phoneline and email inbox will get you through to one of our experts ASAP should you need them.
Dedicated support team:
You'll get lifetime support from our dedicated experts and access to our priority phoneline and inbox to make sure your questions answered ASAP.
Hub business manager:
Manage your client's company in one place, along with all your other clients' companies.
Trusted by 750,000 companies over 12 years.
Benefits

Focus on growing your practice not on admin

Client satisfaction

Our white labeled service keeps you in control, you request what needs to be done and we simply fulfil it. Keeping your clients happy and engaged.
Save time

Our service will save you hours on client company admin, meaning you have more time to go after new clients and grow your business.
Earn more

On average, an accountant spends £1,289 fulfilling client admin. We'll do this for just £10 a month, allowing you to pass the cost directly to your clients and even make a profit!
Market growth

Two out of three companies make changes to their organisation as they grow. Effortlessly supports your clients on their journey.
Our promise
What you need, completed on time, with no mistakes
Tailored
We understand every business is different. That's why we tailor our products and services so you can pick and mix what your clients need.
Streamlined
Designed with your needs in mind, our streamlined service will allow you to form companies and complete company admin in no time at all.
Priority
Your time is valuable. You'll get access to our priority phone line and inbox to make sure any questions you have is answered ASAP.
Experts
Rated excellent on Trustpilot, Companies House approved and over 12 years of experience starting and helping companies in the UK grow.
Clients management
All clients in one place

You'll get access to your own HUB. Here you can manage all your clients' companies in one place and opt them in for essential products and services.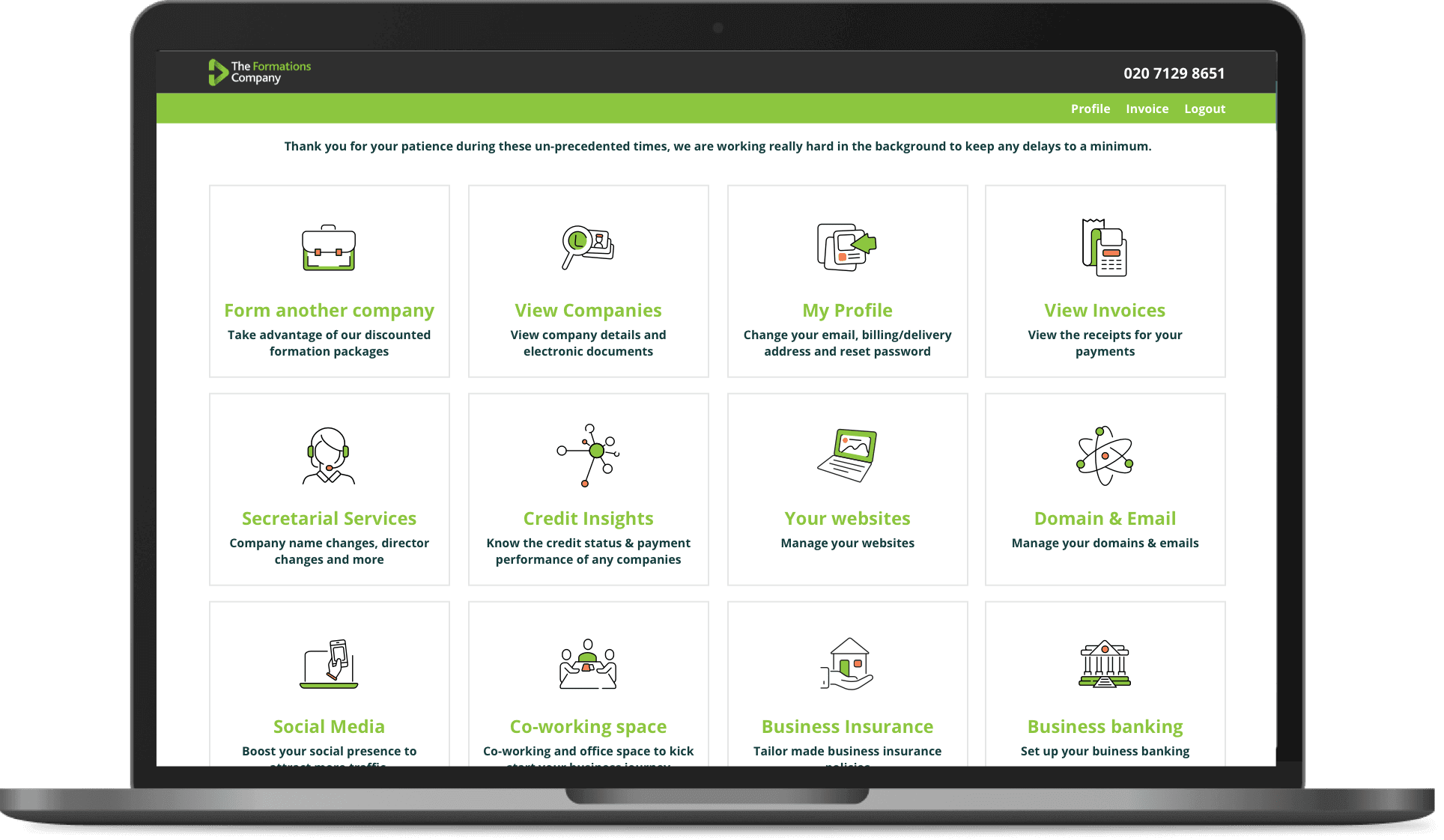 How does this work, exactly?
We handle all company administration for every client you sign-up with us. This includes formation (if needed), confirmation statement, secretarial services, dormant services, and registered address.
How is my client's mail handled?
We scan and forward all your clients statutory mail to an email address and physical address of your choice – either to yourself or your client directly and anonymously.
Imagine, no more chasing for important documents and everything delivered in a timely manner!
Non-statutory business mail forwarding optional at an additional charge.
How many clients can I register?
There is no limit to the number of clients you can register.
What happens if my client decides to dissolve their business?
You can cancel our services at any time.
How do I renew my Registered Agent subscription?
If you pay yearly for your subscription, the service will automatically renew on an annual basis, you'll receive a reminder email 30 days before the renewal date.
Your payment will automatically be collected on the renewal date using the debit/credit card details we currently hold for you. If you need to update your card details you can log in to your account and select Subscriptions here you can add a new card payment.
If you require any assistance with your payment details please call us on 020 7129 8651 and one of the customer care team will be happy to assist you.
What additional services do you offer?
What additional services do you offer?
How long does the company formation process normally take?
It usually takes up to 3-6 working hours to form a limited company, although it can take up to 24 hours, dependent on Companies House workload on the day.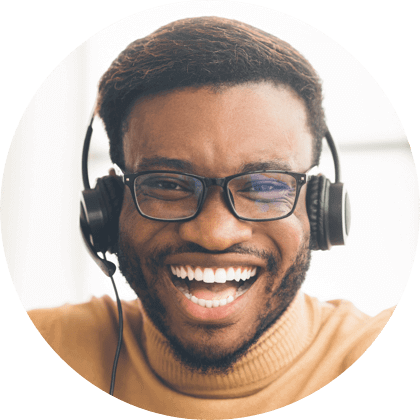 Priority customer support
Experts on hand
Get access to our priroty telephone line and email inbox and speak to one of our experts ASAP should you need to – why not try it out now to find out more about our service.
Customer reviews
Count on us to help you provide the best service to your clients.
Success stories
Join other accountants and advisors, just like you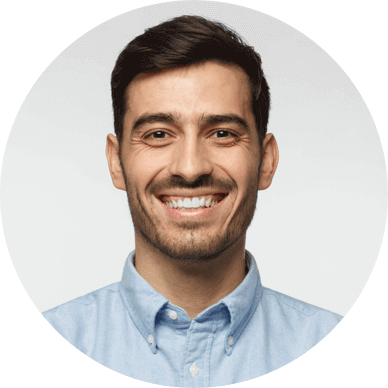 "Best thing I've ever done."
John S.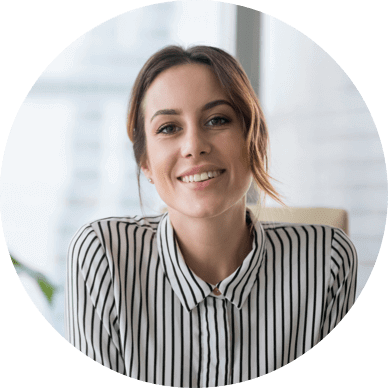 "Awesome service!"
Becky D.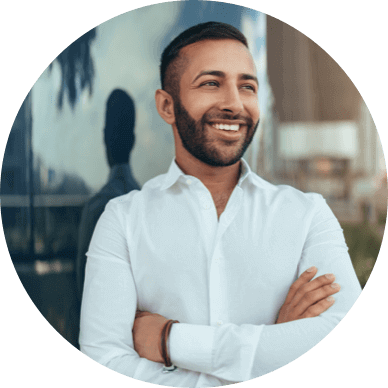 "TFC has helped me to grow my business."
Chad A.