Google Ads made easy
Google Ads is a great way of marketing your small business. Not only can it help with generating sales, it also allows you to control how much you spend and who sees your adverts – meaning that you can find the right customers (people who are more likely to buy your products and services).

Only pay if somebody clicks your ad.

Target the people interested in your products.

Find out which Ads bring you the most customers.
How to set up in 6 easy steps
Setting up your Ads account correctly is key to your success. You'll need to do this to make sure that everything is tailored to finding the kind of customers you need. Try and put yourself in the mind of your ideal customer and think about what they might type in to Google to find your product or service and how your ads can signpost them to buy it from you.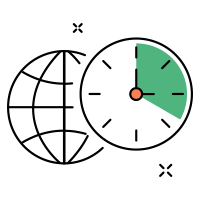 Choose your currency and time zone. These can't be changed
once you're set up so make sure this information is correct.
Next, you'll need to add your credit card details.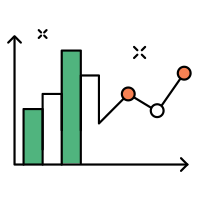 Link your Google Analytics account
This is how you'll track which customers have clicked on your ads
and purchased your products. Find out how to do this here.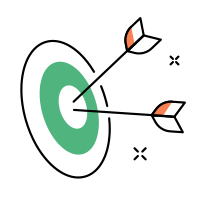 Set up conversion tracking
Conversion tracking helps you identify how well your ads are generating
sales, downloads, email sign ups or leads – depending on your goals.
In Google Analytics, there are 4 ways to track goals – Destination,
duration, pages/session and events. Once your conversion goal is
created, you can import this into Google Ads.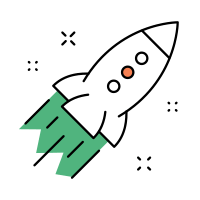 The easiest and most common way to set up an Ads campaign is
to base them around your products and services. Keep in mind
the kind of customer you want to buy your product and how
much you're willing to spend to convert them.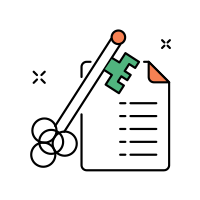 Add your keywords into ad groups
Each campaign is divided into groups. This means you can write different
ads for different sets of keywords. You'll want to keep the keywords
within your groups similar so that it's easier for you to write the best ads.
Tip – Group your Ads by theme so that you can advertise to the right people searching for these words.

Here are some of our top tips to help you write great ads.
Write at least 3 adverts per group focusing on your unique selling point
Include your keywords in your headlines. This will help show Google that your adverts are relevant when people search for those terms.
Avoid using exclamation marks, special characters and full caps. Check Google's guidelines to make sure your ads are approved.
Make the most of the character limit. Use the space to explain why people should buy from you.
Use ad extensions. Using at least 3 different types can help you convert customers. Try adding your phone number, links to relevant pages or additional text.
Analyse your performance
The number of metrics available in Ads can be overwhelming. Particularly if you've not used it before. Think about your goal, and what you'd like to achieve. This will help you choose the right metrics to measure your success. Below are some common goals you could measure.
– See if my adverts are compelling iClicks, impressions, Click through rate
– Find out if my spending is under control iCost, Average cost per click
– Check that I'm bidding enough to appear higher in search results iPosition
– Make sure that I'm targeting the right customers iConversions, cost per conversion, conversion value, conversion cost
– Make sure I'm appearing in all relevant searches iShare, lost impression share
Common problems with Ads campaigns
If you're not getting the results you want from your Ads campaigns, there are a few things you can do to help.
Low impressions
Make sure that you're going after keywords that have a higher search volume. It might also be worth checking that you have enough budget to go after the keywords you want. Low impressions aren't necessarily a bad thing – your product or service could just be niche. Doing some in-depth keyword research could help you here.
Low click through rate
If your average position is over 2 people might not be seeing your ads. Improving your quality score can be a cost-effective way of boosting your click through rate. This means changing the wording of your ad to make it relevant to the search. If your CTR is still low, a competitor might be making a better offer.
High costs
Once your campaign has been live for a few days, you'll start to see what customers are searching to find your products or services. This help determine any negative keywords to stop you wasting money on irrelevant words. You can also allocate budget to specific devices, days of the week and hours of the day. For example, if you don't generate sales after hours or at weekends, you can set your campaign to only serve ads at times you do.
Low quality score
Quality Score is an estimate of how well your keyword is performing. It's based on a scale that goes from 1 to 10. Where 1 is the lowest score and 10 is the highest. It has a big impact on the ad position you achieve and the price you'll pay, so it's worth getting this right. You can hover over the status next to a keyword to see its score. If it's below average, you can check your bid to ensure you appear far enough up the page. To generally improve your quality score you can structure your campaigns into targeted ad groups, use the keywords in your ad copy and on any landing pages.
Low conversions
If you're not getting enough conversions, you can use Google Analytics to work out why customers aren't doing what you want them to. Low time on site and pages/sessions means that your content of your web page isn't what the customer was expecting. If your time on site analytics are high, and your bounce rate is low, but you still aren't generating sales, this could indicate a problem with the way you capture sales and leads.