A space to elevate your business
From desks to offices and entire headquarters, Wework create environments for productivity, innovation, and connection in over 115 cities around the world.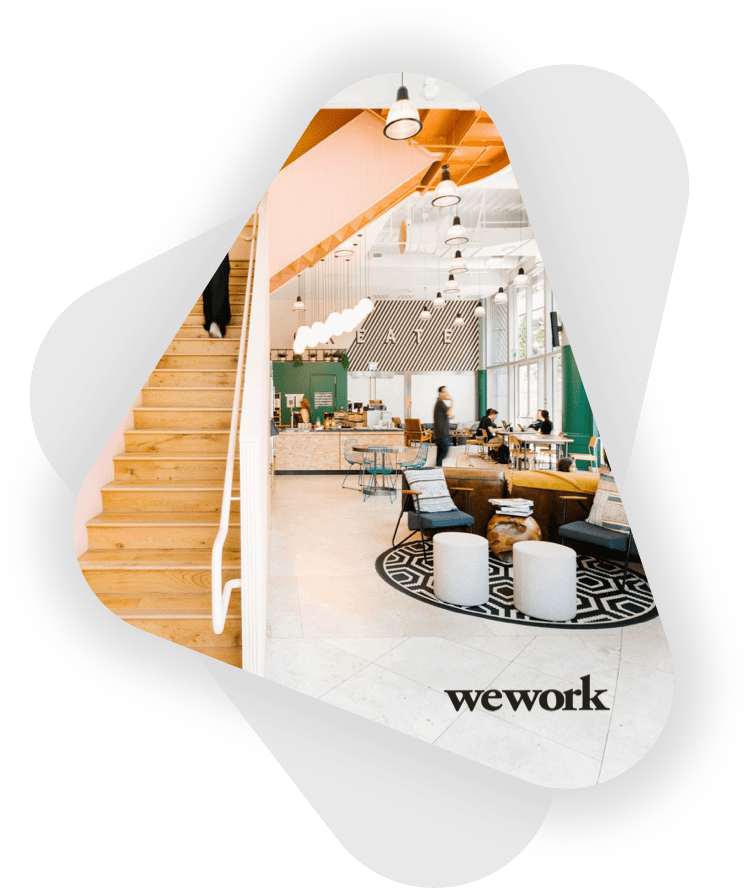 What can I expect from my space at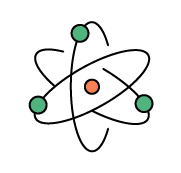 Super-fast internet
Say goodbye to working at a snails pace. You space will have a secure internet connection that's fit for purpose.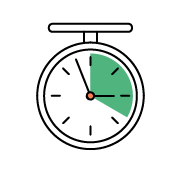 24/7 building access
Your business might not run 9-5. You'll have access to your workspace whenever you need it.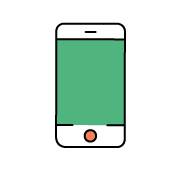 Private phone booths
Need to make confidential calls, or just need a quiet space? WeWork spaces are kitted out with plenty of private booths.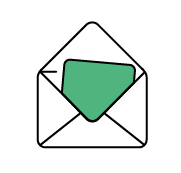 Mail & package handling
Need something delivered? No problem! The front desk are happy to take delivery of your packages and mail.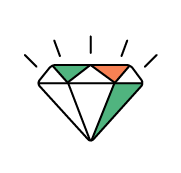 Daily cleaning
Your space will always be clean and tidy. Which is one less thing you'll need to worry about!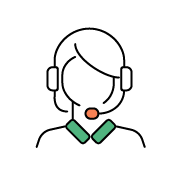 Front desk service
Whether you have a question about the space, or something more technical – There's always someone on hand to help.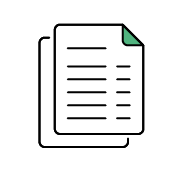 Office supplies and printers
All the mod cons are included, which means you can focus on growing your business.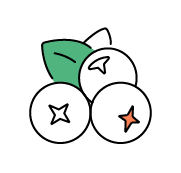 Fresh fruit, coffee and water
Need a boost? WeWork spaces have communal areas where you can grab a coffee and refuel.
Grow your business today with

How will a WeWork space help me grow my business?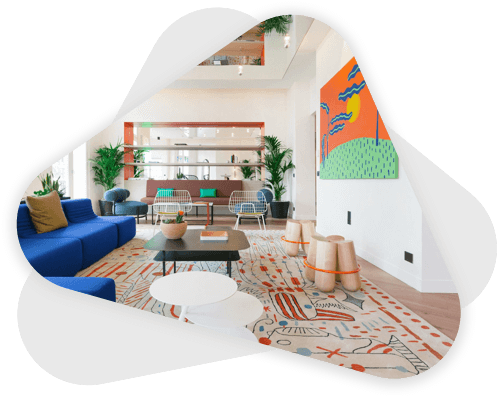 Flexible spaces that grow with you
WeWork's spaces are designed with growth in mind. Perhaps you only need a desk for yourself right now, away from the distractions of working at home. But it might not be that way forever. If you choose to grow your team WeWork spaces can accommodate for teams of 1-100 people!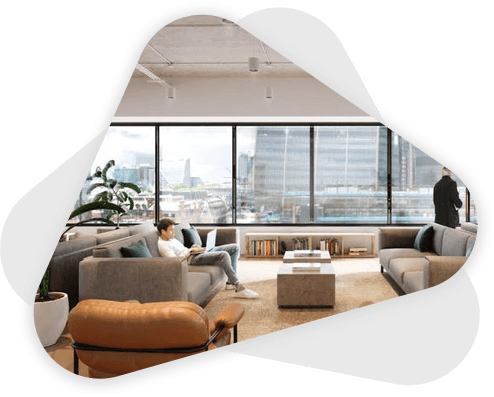 Services to support you
As a small business it can be difficult to get a good rate from some service providers, plus working with a limited budget can be difficult. WeWork have a number of partners and service providers which mean you get a better price on things like healthcare, HR solutions, payment chasing and even shipping discounts.
All the things you can't put a price on
With just one membership fee you'll get the flexibility of month-to-month terms. So if your circumstances change, or you only need a space for a short period of time, the financial impact on your business is minimal. You'll even get access to other WeWork spaces around the world and access to weekly events.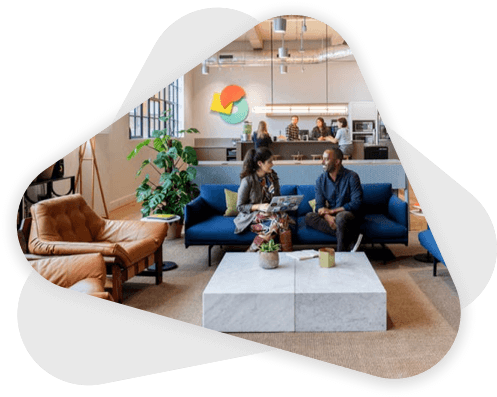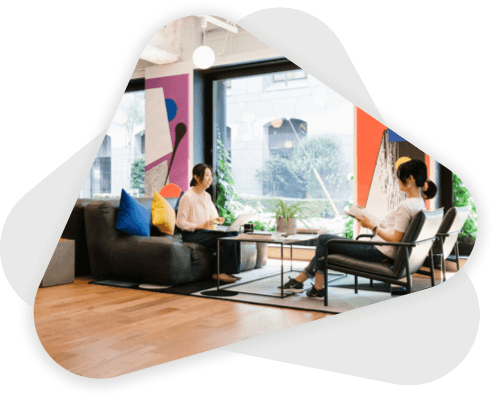 A space that truly works for your business
Growing a business is no small feat. Making yourself available to your customers and clients can boost your success and even make or break your business. With world-class facilities, you'll have access to your workspace whenever you need it, 24/7. With all the mod cons and facilities you'd expect available to you too.
Connect with like-minded individuals
When you're starting a business, it's all about who you know. WeWork spaces have collaboration at their very heart. Whether you need feedback on a product, or a recommendation on a service provider, you'll always find friendly community members who are more than happy to help, and even grab a cold drink after work.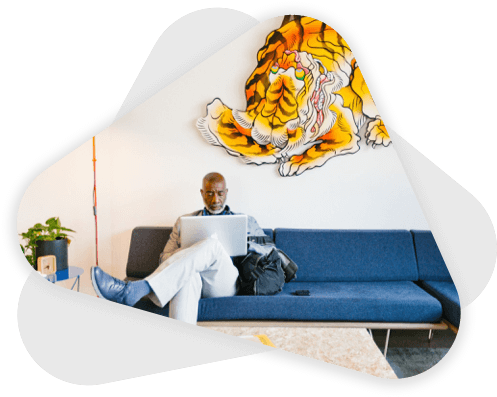 Grow your business today with

Be as successful as Joby and start your business now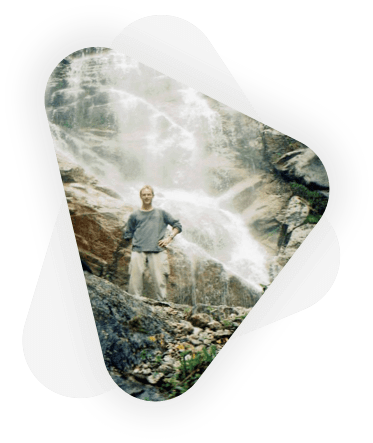 "We expected everything to be a lot harder than it was actually! We were surprised at how simple and easy it was to formally register our business with The Formations Company"
Joby Wood, CBDgo Ltd
The hassle and risk-free option for getting started and growing your limited company.
Starter plus a comprehensive SME legal documents and credit score build & monitor service.
Essentials plus a 24/7 legal advice helpline, and your home address privacy secured.
The insolvency Service has had its powers extended on behalf of the Business Secretary to help tackle directors who dissolve companies to avoid paying their liabilities from Government-backed...
Read More
The government has issued financial support for businesses in the UK to help alleviate the effects Omicron is having. England Statutory Sick-Pay Rebate Scheme The Government...
Read More
Ready to have your company set up?
Registering a company might seem an intimidating process, but it's actually much simpler than you think: especially in the hands of seasoned company formation agents like us. We'll not only help you with registering a company, but offer a range of services to support your business at all stages of its life. We'll help you sort out your company registrations online, with a process so quick and easy you can go ahead and focus on the fun bits.
What is a company formation agent?
Formation agents perform company registrations in partnership with Companies House. We're one of the largest, and also the cheapest. We don't just get your company registered then leave you to it – we use our experience to help you start your business properly. There are plenty of reasons to use a formation agent rather than go directly to Companies House. If you ask us, though, the best thing is that we go through the whole process with you, and get your application submitted securely online. We provide expert advice on the legal hurdles while you incorporate, and recommend good quality solutions that you might need after you've formed.
What's the difference between sole trader and limited company?
Think of it this way: when you form a limited company, you put a protective shield between you and your business. Being a sole trader is the opposite – you have no protection. As a sole trader, you are responsible for any debt you might come into while you're in business. When you register and become the director of your own limited company, you have less personal responsibility. The benefits are that you can claim back expenses, and add to your salary with dividend payments at the end of the year. For more information, see our Help Centre article about limited companies and sole traders.
How do I register a company?
Easy, we'll do it for you. Check out our formation bundles to learn more about our different products. They start at £9.99, and go all the way up to our Super bundle. Limited company formation is a straightforward business if you're as well-versed with the process as we are. If you're not sure where to start, check out our company formation guides for an introduction and some insider tips.
Why The Formations Company?
We're dedicated to British business, and love nothing more than seeing new companies flourish. 750,000 UK companies have trusted us to help them register, and we have thousands of happy customers who've seen how simple the formations process can be. We're cheaper than going to Companies House directly, and cost less than most accountants. Our online application is incredibly simple, and if you've got all your documents handy it shouldn't take more than 10 minutes to complete. So what are you waiting for? Start your business today.
Learn more about starting a business