When it comes to nurturing female entrepreneurship, the onus is on us to encourage aspiration from an early age. In the spirit of International Women's Day, we thought to revisit the impact of female entrepreneurship on the economy.
Success stories…
There are many women who start up a business from scratch and build successful, profitable companies. 49.5% of small businesses in the past two years are owned by women, according to The Federation of Small Businesses (FSB). Whether they are married, single women or mothers who want to work around their children, these women have become very successful in their own right. They used their imagination and entrepreneurial skills to succeed in their industries.
Starting early is key…
I recently had the privilege of delivering a workshop for young entrepreneurs at the Peter Jones Enterprise Academy (PJEA) and felt inspired to see as many young women there as men. I believe that starting early is key. This is because many girls at an early age show signs of entrepreneurial potential, but simply need nurturing and encouragement.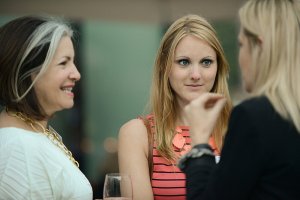 More women entrepreneurs mean a boost to the economy
The Fawcett Report conducted a survey in 2013, "The changing labour market – delivering for women, delivering for growth" and reported that the current lack of women engaged in entrepreneurial activity represents huge untapped potential.
Furthermore, the report showed that if women set up businesses at the same rate as men, there would be an extra 150,000 new businesses in the UK each year. This would bring a significant boost to the economy. Also, if the UK had the same level of female entrepreneurship as the US, there would be around 600,000 extra women-owned businesses, contributing an extra £42 billion to the economy.
Staggering potential
This shows a huge potential for nurturing young female entrepreneurs. Since secondary school and college is such an important stage in a student's life in choosing a career path, this could be where we need to look to make a start.
Exactly how can small businesses help?
Whether you are a business that has a mentoring program or not, you can help. Any small business can help maximise women's contribution to future economic growth, as outlined in our past blog following a report published by independent Women's Business Council in June 2013:
Increase the availability of role models
According to the study, 83percent of women who have their own business were inspired by someone who has done so. Clearly, this is an important factor in inspiring potential female entrepreneurs.
Access to finance
As this is the most common barrier preventing most women from starting their own business, promotion of all the business financing options available to women needs to be more widespread.
Promote enterprise through education
Entrepreneurship needs to be promoted vigorously. This could be in the educational as well as a business setting. This will make sure that such disparity does not continue into future generations
How can we inspire girls to aspire?
One practical step we could take collectively as business mentors, teachers and carers is to encourage an offering of statistics classes in mathematics, rather than concentrating on calculus.  And while the rise of business academies for teenagers, such as the PJEA mentioned above, is certainly a welcome start, I would like to see simple business skills taught much earlier on in their school life, from as early as year 6 in primary school. This need only be as something simple as 'leadership' or team building skills.
Another option…
Those of us who already run a business could provide mentoring or events. This could be a place where young female students can meet female entrepreneurs to see first-hand how we have succeeded.
I would also love to see us explore crowdfunding platforms particularly aimed at young women. These could be promoted as a way of encouraging them to start their own businesses. Especially if it means not risking their or their parent's capital.
Overall, perhaps what is most encouraging is that the young women I worked with at the PJEA all wanted to step outside of traditional gender roles.
It's a great start
When young women want to go into business, it's up to us to show them that it is not based on gender, but on ability. Together, it's now up to us to show them all the wonderful possibilities open to them. This will encourage them to explore their options to even greater heights.
Published Saturday January 25, 2014