In a world saturated with straight-haired models, North-West London entrepreneur Klerissa McDonald sought to shake up the hairdressing industry
"With representation in society, especially in the media, the message is usually that straight hair is beautiful," says Klerissa McDonald. "There's not a lot of representation for curly hair," she says. The 31-year-old entrepreneur has had a passion for hair since her childhood. After working in salons across London during her twenties, she uncovered a lack of representation for curly-haired individuals. Hairdressers didn't seem to know how to treat it, chemical straightening was the buzz and the media downright ignored it. These realisations inspired her to become a start-up, launching Curly By Nature: a holistic, 100% natural hair care start-up made for curly haired individuals.
Between being her own boss, a mum to three kids and prepping for a salon launch in August, McDonald sat down to chat. Here, she shares her start-up experience.
The Formations Company: Where did you look to for inspiration creating your start-up?
Klerissa McDonald: I think my parents inspired me and my daughter, especially. Because when I was pregnant, I was really conscious about what I put on my body. A lot of the products available, especially at the time, were more synthetic. I wanted to take a more natural approach.
TFC: Your company's mission statement talks about how curly hair is less acceptable in society's eye. Tell us about that.
KM: Well yes, regarding curly hair, a lot of the products that were on the market around the time [of forming] would use words such as "excessively curly" and "wild" or "frizzy". For me, I find that to be a quite negative way to describe curly hair. I think curly hair is beautiful, I think it's versatile and amazing. And whilst looking for products for curly hair and afro hair types, I think it's important to reaffirm the beauty and amazing versatility of their hair. Within the actual industry, a lot of hairdressers don't know how to manage curly hair. So, because of the lack of education and the lack of willingness to address these hair types, I felt it was really important to start something. To educate people, consumers and professionals alike.
TFC: And what was your initial experience with The Formations Company like?  
KM: It was great, it was very easy to use and the customer service was amazing. It was really straightforward.
TFC: Being a new business owner can be a scary, difficult time. What are some obstacles you've had to overcome as an entrepreneur?
KM: I think with my business idea, I didn't have any experience in the product side of the business in relation to creating a product, marketing a product, etc. The fact that I didn't have any experience in the industry was a huge challenge and I kind of went in blindly. What drove me was the passion I had for what I wanted to do, so I knew there'd be challenges. Even finance was a challenge, but I think you just have to go for it. Start with the resources that you have and what you know and just do one thing at a time and go forward with what you've got.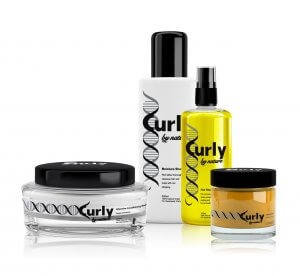 Curly By Nature's Mission
"My personal mission is to promote healthy hair care practices using natural products and methods, dispel myths and eliminate the misconception that hair in its originally curly form is unmanageable, wild, frizzy and less acceptable in society's social settings. We believe's that every individual and their hair, is uniquely beautiful and wonderfully made. We simply want to help people rediscover the beauty, wonder and versatility of their hair using the finest ingredients and easiest methods"  – Klerissa McDonald, Founder of Curly By Nature
TFC: How did you go about finding the right suppliers for your start-up?
KM: Research, research and more research. I asked industry experts, found myself a mentor and went to industry exhibitions and networking events! Even now, I'll read up on ingredients that interest or inspire me and then start testing and questioning again.
TFC: What does a typical day look like for you?
KM: There are literally no typical days, especially now that I have a new little one! One day I could be in the care clinic servicing clients whilst creating digital content to post and share on my social media platforms. The next day I could be working from home updating my records, planning my activities, writing for my blog and ordering ingredients. All whilst listening to a podcast (or baby learning CD) or visiting a salon who stocks our products. Another day, I could be making a batch of products in the morning and testing new ideas and formulations in the afternoon.
TFC: Do you have a clear business plan in place? How did you go about creating this?
KM: Yes, this working document is my bible. I started with key questions starting with my vision. I then used the Business Model Canvas (keeping it short and sweet within one A4 page) to form the skeleton of my business plan.
TFC: And finally, in terms of business advice, is there any you'd like to pass on to a new business owner?
KM: Because I am a one-man-band and I cover everything in the business – product development, marketing, finance – it's really important to do one thing and focus. Don't say you're going to come back to something or do it later, do it while it's in front of you. If you see an email, don't say "I'll get back to that person later." Just do it now.
Are you ready to launch your start-up? Check out our formation packages. We'll be alongside you as you start your entrepreneur journey.
Or, have your own start-up story to share? Or know of an inspiring individual? Get in touch with us at marketing@theformationscompany.com